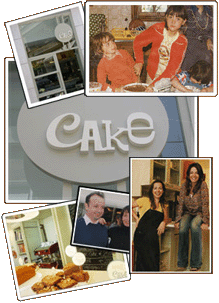 In 2004 siblings Lucy, Maggie and Stephen S. Elliott opened a small bakery in the centre of Athens named «CAKE». A shop that produced and sold American-style cakes.

Since their childhood the siblings grew up baking, tasting and above all,enjoying amazing cakes from family recipes! Ranging from their notorious carrot cake to mouth watering chocolate fudge and from NY cheesecake to cupcakes.

By the late 90's there were thoughts of opening a bakery, Cake shop that looked similar to the kitchen they grew up in. A checker tiled floor, wood shelving with recipe books, a marble sink and tops, home-made art on the walls!

Α few years later, on March 8 2004, just a few months before the Athens Olympics, the first tiny «CAKE Kolonaki» -29 square meters large- opened its door. The first and most challenging task was to familiarize the general public with the new (for Athens) authentic flavors.

Within a short time «CAKE Kolonaki» was a success. With the unique recipes, the high quality production process and friendly service, the Elliott's were able to make their cakes well known.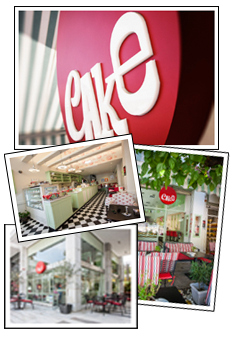 Within a year, people flocked-in from all corners of Athens, falling in love with the «CAKE» tastes and demanding shops closer by! Initial expansion efforts took place during 2006 where a second shop opened in the northern suburbs of Halandri-Psyhiko.

By 2008 «CAKE», began developing its network through franchising while enriching its Cake line, introducing savoury tastes and a full range of espresso brewed drinks. Shops opened in many areas of Athens. From Piraeus to Voula and from Nea Smyrni to Nea Erithrea.

Despite the difficulties of the Greek financial crisis, the future is looked upon with great optimism.

Proud of all franchise partners and providers, the company's goals is to maintain product and service quality, expand and introduce new cake tastes and further develop the network in Greece and abroad.

Find us on: Facebook | Twitter | Instagram